We created a 2011 Trophy Gallery.
new photos are added all the time.

This is one of your bes selling trophy lion packages.
Great deal on a Male and Female Lion hunt for two Hunters in South Africa!!!
When you think about it , both guys basically get to hunt twice because you are there for each other's hunt.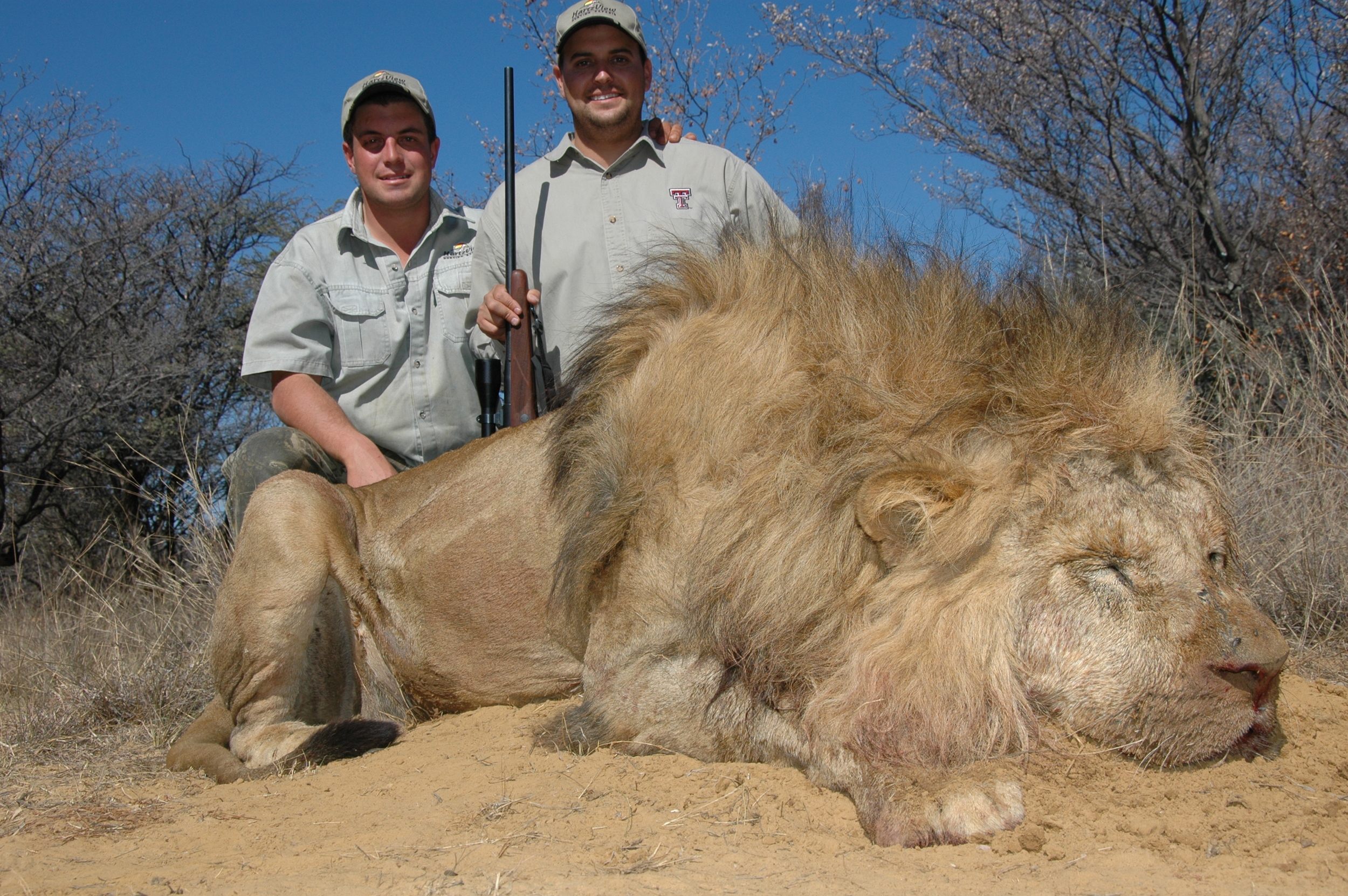 Male Lion
Package Includes:
5x Days of hunting for 2x Hunters,
2x Arrival Days
1x Male Lion,
1x Female Lion,
All meals and lodging included.
You can also add additional plainsgame animals to the hunt , contact us with the list of other animals you and and we will buils a package for you.
Total $25 500 (Package is worth $35 500)
Package excludes :
International and domestic air travel.
Chartered and commercial flights to, from or between hunting areas.
Trophy fees of animals bagged, wounded or lost.
Accommodation, meals and beverages before or after the safari.
Taxidermist fees, dipping, packing, insurance and transport to place of destination.
Gratuities to staff, professional hunters and camp staff.
Hey guys,
Lion hunting in South Africa is a very sensitive topic and I don't want to stir up too much with this post but need to get this out of my mind and under clients attention intrested in booking a lion hunt in South Africa.
I was at the Harrisburg show the last week and it came to my attention that there was a fair amount of people coming to my booth intrested in booking a lionhunt asking me if I could provide them with the same deal as another outfitter at the show.
Here is this the deal.
"Book a male lion of $25 000 in 2011 and that same cat will grow to be as big as a cat currently worth $35 000 in a years time!"
I almost fell right on my back when I heard this the first, second and third time!
I had the clients sit down and explained to them carefully:
1. A spesific lion does not grow that much in a years time.
2. Cats that we hunt that has blonde mane will most probably never have darker or black mane as it is all in the genes of the lion. They are all mature lions.
3. Usually the higher priced cats are darker or black maned lions.
Then you see the excitement float away…
I have hunted many lion with a lot of clients and never had a dissapointed client because we do straight forward and honest business. I feel like it is situations like this is what confuses clients about hunting Africa. And it makes it even more difficult for honest outfitters to make a living.
What will happen is that the client will book the huntbecause it is such a "great deal". Comes 2012 he willhunt a lion and when he shoots his lion it WILL be a dissapointment to him, it will not be the cat he expected if it even is the lion he had booked!
Good luck with the 2011 season to outfitters and clients hunting Africa.
Best regards,
Jacques Spamer